cares for thrush, rahes, itch and soreness
Nourishing nipple cream (100 ml) - also known as a barrier cream - keeps skin protected and soothed | Forms a protective film on exposed, red and irritated skin, e.g. sore nipples from breastfeeding or running | Contains natural Tea Tree Oil from Australia | Soothes red and exposed skin | Can be used by both women and men.
Read more
Sale price
$17.99
Regular price
Unit price
per
✓ Fast Delivery

✓ 100% Vegan

✓ Dermatologically tested

✓ 100% Money back guarantee
Seen in
View full details
The barrier cream can be used as a protective and nourishing nipple cream for sore nipples and to protect other exposed skin areas on the body.

Nipple soreness can occur for a variety of reasons and is very common during breastfeeding or sports such as running.

When the delicate skin around the nipples is exposed to friction, moisture or sweat, it can cause soreness and redness. In the worst case scenario, the irritation can lead to cracks and fissures in the skin and develop into mastitis.

Luckily, you can keep your skin protected with pre-race and post-breastfeeding nipple cream.

This is how you use the nipple cream

Apply the barrier cream on and around your nipples where you typically experience redness, irritation and soreness. Allow the product to absorb before dressing or covering your nipples.

If you experience sore nipples as a result of sports, such as running, it is important that you apply the cream before the physical activity. This way, the cream forms a protective layer on your skin, minimising the friction and irritation that can occur when you start to sweat.

You can also use the cream after exercise and showering to nourish your skin and, over time, make it more resistant to friction and irritation.

If you want to use the barrier cream because you experience sore nipples as a result of breastfeeding, it's important that after each breastfeed you allow the skin to dry completely before applying the cream. Leave the cream on until the next breastfeed. You should wipe the cream off your breast before breastfeeding again.

Do not apply the nipple cream to open wounds.


Why do I get sore nipples when breastfeeding?

Sore nipples can occur for a number of reasons.

Many women experience sore breasts and nipples in connection with hormonal changes in the body, for example during puberty, around the time of menstruation or in connection with pregnancy. When breastfeeding, it is most often caused by milk accumulation in the breast or irritation that develops into mastitis.

It's perfectly normal to experience delicate and sensitive nipples when breastfeeding, but if your sucking technique is poor, if your baby has a tight tongue tie or if you don't keep your nipples dry between feedings, it can unfortunately develop into mastitis and increased irritation.

Fortunately, you can minimise the irritation that can occur between feedings by using nipple cream. The barrier cream keeps the delicate skin protected from friction and moisture, which can aggravate irritation. The cream also has a soothing and calming effect on exposed skin.

Why exercise can lead to sore nipples

f you suffer from sore nipples after exercise, sports or running, you're not alone. Many people experience this because the sweat and friction from clothing creates repeated rubbing on delicate skin areas. When exposed long enough and often enough, your skin risks becoming red, sore and irritated.

Therefore, nipple barrier cream should always be applied before physical activity and exercise. The cream forms a protective layer on your skin, minimising the friction and irritation that can occur when you start to sweat. Friction can lead to redness, irritation and painful sores as the sweat on your skin and running clothes repeatedly abrades and rubs the skin in the same place. This can be especially hard on the delicate skin on or around the nipples.

In addition to sore nipples, the barrier cream can also be used between the thighs, in the crotch or between the buttocks if you experience soreness and irritation on the skin due to moisture and friction.

Of course, the cream can be used by both men and women.

What do I do, if I'm not satisfied?

Should the product - contrary to expectations - not relieve your sore nipples, you are of course covered by the satisfaction guarantee when you shop in the webshop. Read more here.
David

Having been a long-term user of this product, we have no problem repurchasing and using it again. Fast delivery and at a competitive cost.

Susan

Australian Bodycare is my favorite! Now I don't use anything else. My skin is perfect for the first time in years! Thank you, Australian Bodycare!

Sarah

I've been using this company for years. Their products are of very high quality. The ordering process is straightforward, and the delivery is fast. I highly recommend them.

Mary

I love the products. I really value the small gifts. The customer service couldn't be better. Thanks to you all.

Elizabeth

Good products that live up to their promises with an incredibly good effect. My skin has never been better!

John

Excellent products. I've always liked tea tree and now there's such a wide range of products for everyone.

Michael

Brilliant products and fast delivery. I'm very impressed 🥳.

Emma

My skin feels great. I will definitely make this a permanent part of my skincare routine.

Karen

Very easy to order. Very efficient service. Always informed about the delivery. The service was excellent.

Helen

I love these products. I have very sensitive and reactive skin and have no issues with these products. I'm very happy.

Daniel

The products are absolutely excellent, they work perfectly, used once and everything is clear! Plus, they're better than chemical solutions.

Lisa

Excellent products, they really work well. The price is a bit high but so is the quality.
Frequently asked Questions
Water/Aqua, Isostearyl Isostearate, Polyglyceryl-3 Polyricinoleate, Alcohol Denat., Glycerin, Cetyl Ricinoleate, Sorbitan Sesquioleate, Macadamia Ternifolia Seed Oil / Macadamia Integrifolia Seed Oil, Zinc Sulfate, Melaleuca Alternifolia (Tea Tree) Leaf Oil, Sodium Caproyl/Lauroyl Lactylate, Cera Alba, Glyceryl Caprate, Magnesium Stearate, Tocopherol, Aluminum Tristearate, Geraniol, Limonene
The story of healing tea trees dates back thousands of years and it originates from the Aboriginal people of Australia. Their legends describe lakes surrounded by tea trees. Falling leaves and twigs from the tea trees leached their essential oils into the water and turned the lakes into antiseptic baths. The lolacl Aborigines used these natural, healing spas to treat a number of conditions, such as skin infection, burns, cuts and insect bites.

The healing benefits of tea trees were not officially registred until 1923. However, the local Aboriginal tribe, Bundjalung, had long understood the protective and healing powers of tea trees and used their crushed leaves to treat various wounds and skin infections. They named the land with tea trees "Healing Ground".

The products from Australian Bodycare contain natural, antiseptic Tea Tree Oil (Melaleuca Alternifolia). Tea Tree Oil has been known and used by Australian Aborigines for centuries because of its powerful antiseptic effects. Tea Tree Oil has been added to all Australian Bodycare Tea Tree Oil products in different concentrations, depending on which skin problem the products is developed to combat and where on the body it is to be used. Our product series is tailored for the entire family: It prevents and treats the most common skin problems—all while staying gentle on the skin.
Shipping and Satisfaction Guarantee

United Kingdom

Expedited & Standard shipping (1 - 2 days) - GBP 9.99. Free shipping on purchases over GBP 29.

Ireland

Standard shipping (2 - 3 days) - GBP 9.99. Free shipping on purchases over GBP 39.

We attach great importance to customer satisfaction and guarantee you the highest quality. Therefore, if within 100 days of receiving your products you are not satisfied, you can make use of the satisfaction guarantee.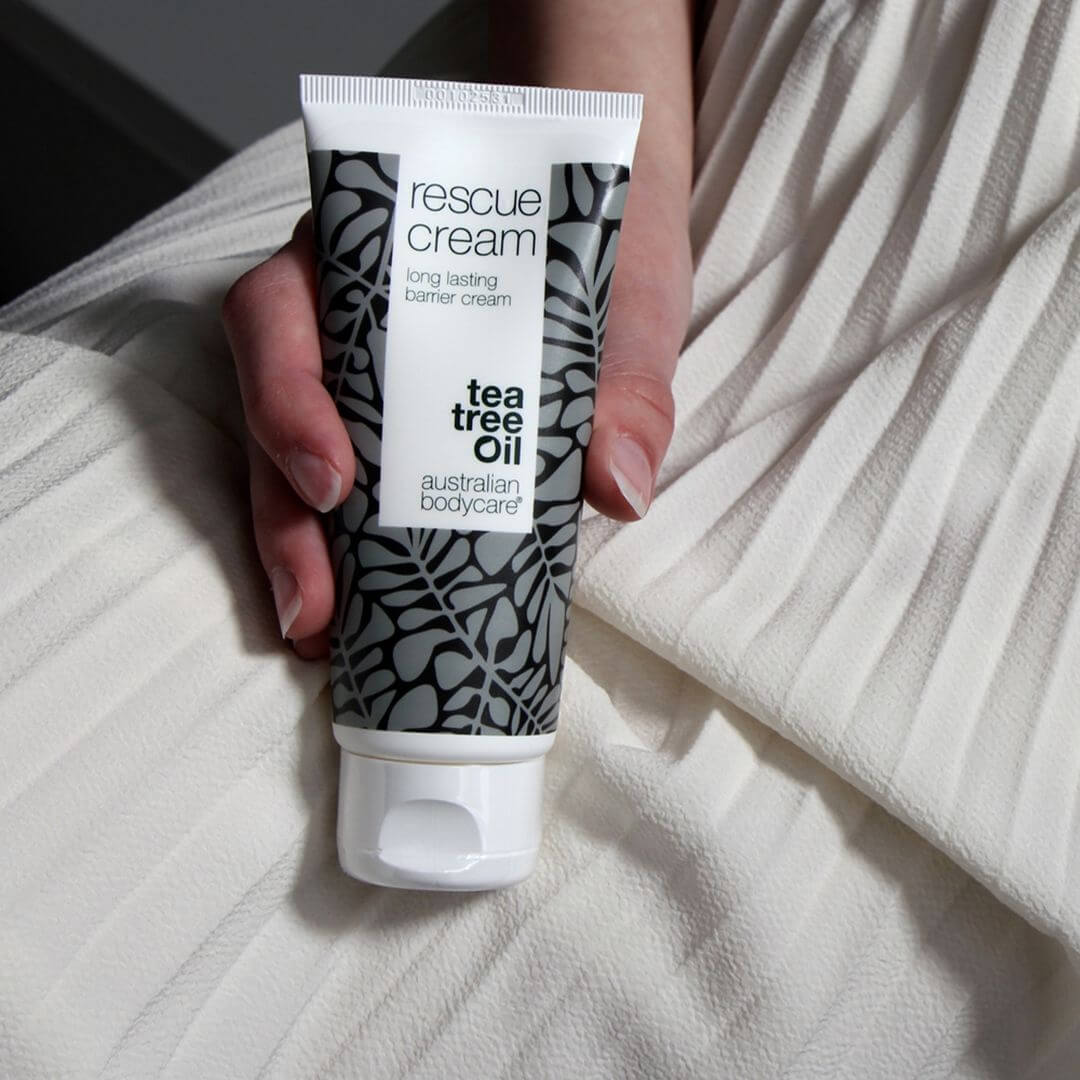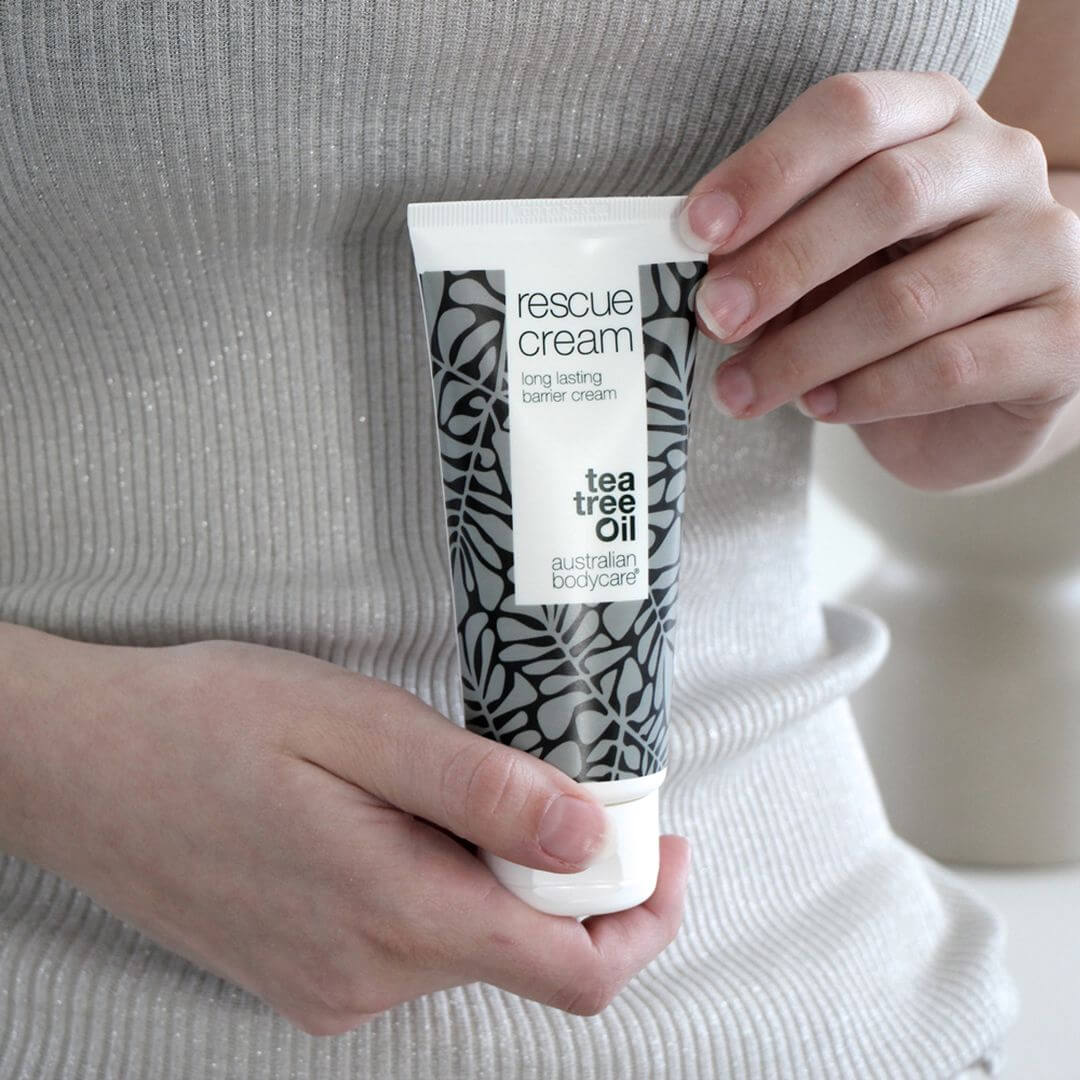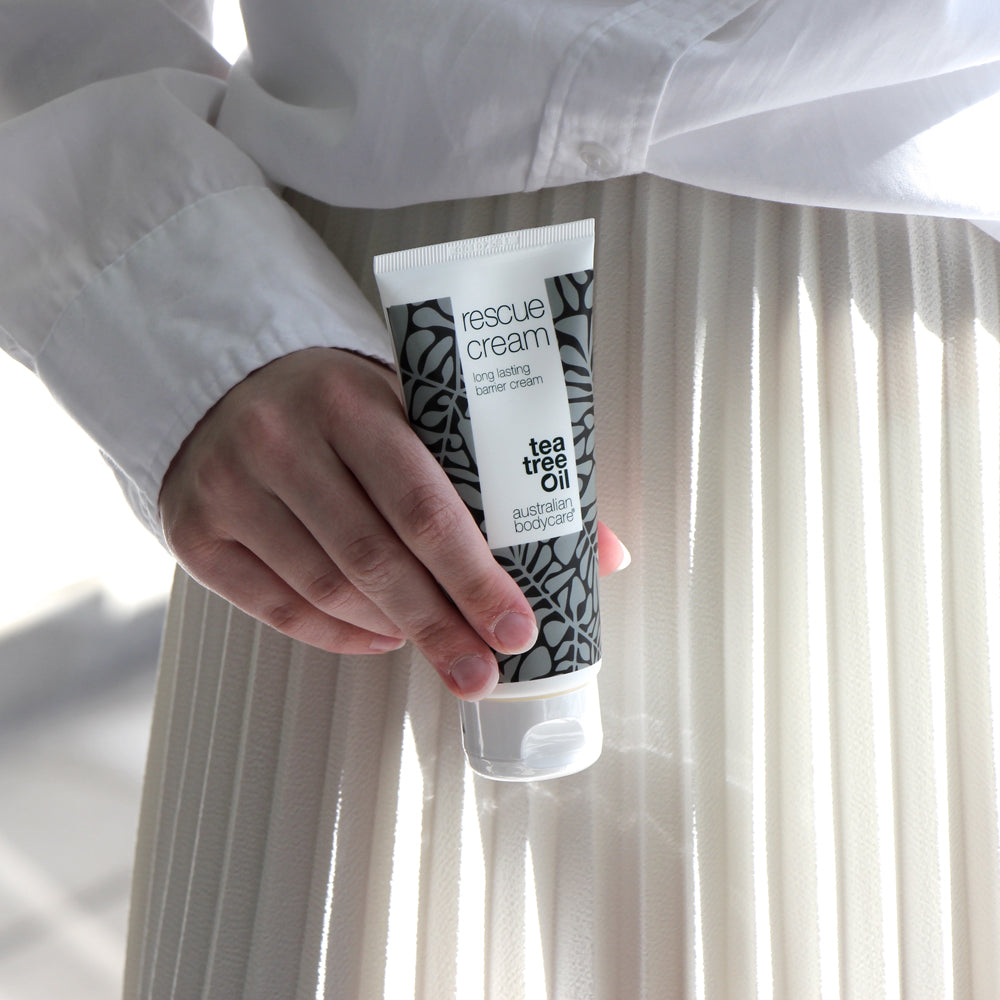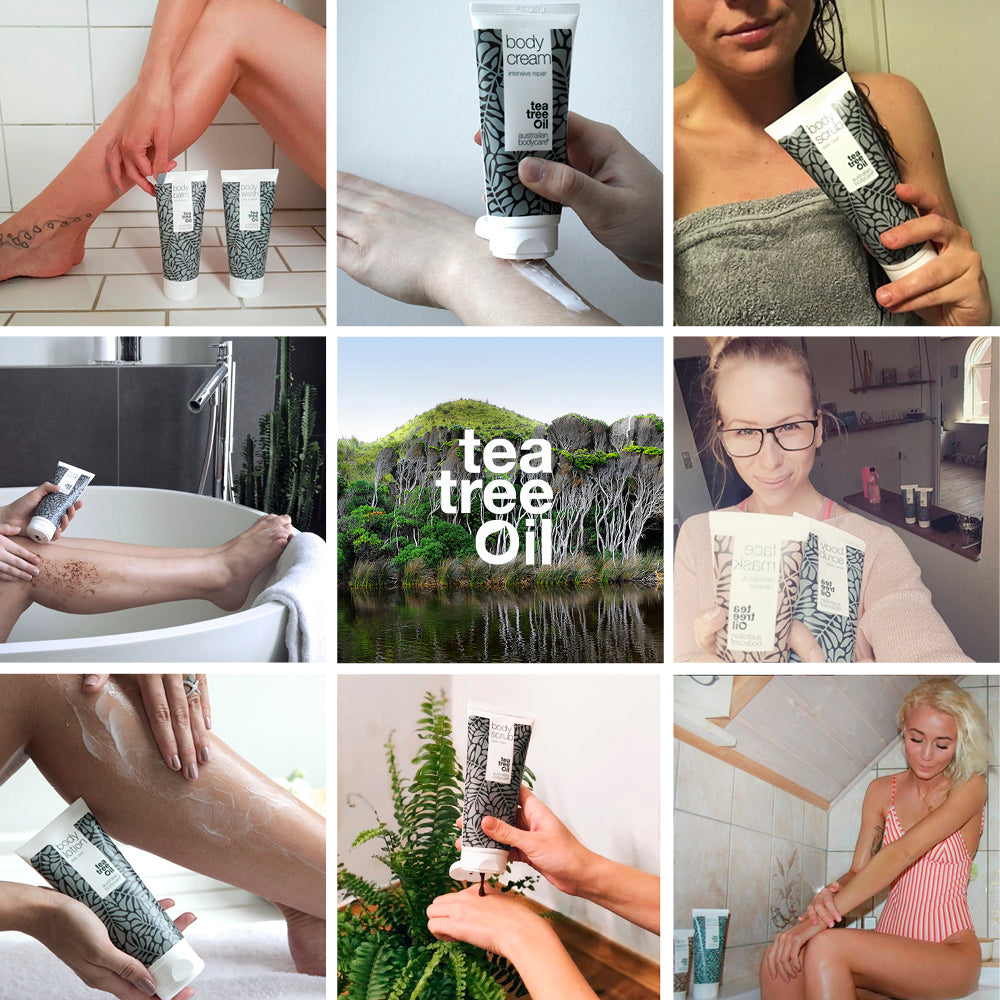 Why you should take care of your skin with Tea Tree Oil from Australian Bodycare
100% Natural

Discover the secret to radiant skin, Tea Tree Oil from Australia's rich flora, a treasure passed down by aboriginals. Sourced from the Melaleuca Alternifolia tree, our products boast the purest, pharmaceutical-grade Tea Tree Oil.

Heal

Harness the might of Tea Tree Oil for immaculate skin and hair. Celebrated for its unparalleled antibacterial and antifungal prowess, it balances the skin's bacterial flora. Every Australian Bodycare product is infused with the right concentration of Pure Tea Tree Oil for optimum results.

Maintain

Embrace daily care with Tea Tree Oil to combat skin issues and promote healthy skin. Engineered to curb unwanted bacterial and fungal growth, our dermatologically-tested formulations prioritize potent results without compromising skin safety.
We Care About Nature
We have partnered with Cool Earth in the conservation of 241,000 hectares of rainforest, protected by 31,000 people.
Read More Here