What is Herpes - and who can catch it?
Herpes is a highly contagious skin and mucous membrane disease caused by the herpes simplex virus (HSV). The two most common types of herpes are:
1. HSV-1, which primarily causes infection of the mouth, throat, face and eyes. HSV-1 is also known as herpes labialis, the type of herpes that most commonly causes cold sores.
2. HSV-2, which causes infection of the skin and mucous membranes around the genitals. HSV-2 is also known as genital herpes.
It is estimated that the majority of the adult population of the world has the herpes virus in their body. The vast majority (around 80% of the adult population) have HSV-1, while fewer (around 30% of the adult population) have HSV-2. Children can also get herpes type 1, but rarely type 2.
Both types of herpes are highly contagious and spread by direct contact. Once you have had a herpes outbreak, the herpes virus goes into a kind of 'hibernation' in the nervous system for the rest of your life. From here, it can be 'awakened' a few or many times throughout life, resulting in new herpes outbreaks. You can never be cured of your herpes virus, but you can do something to prevent new outbreaks, treat the symptoms of outbreaks and, not least, make sure you don't pass the infection on to others.
What are the symptoms for herpes?
The symptoms of herpes are the same whether it is HSV-1 or HSV-2. They are small clear fluid blisters on the skin, in the mouth, in the eyes, on and around the lips and on the genitals. The blisters will usually be painful. They feel like they are burning and the skin feels warm, prickly and tender. The blisters later turn into sores and then scabs that fall off.
You can never get rid of your herpes virus, but the frequency of outbreaks varies greatly. For some people, it will only happen a few times in their lives. Others are constantly plagued by new and bothersome herpes outbreaks.
New outbreaks can have many different causes, including stress, a weakened immune system (for example, just a cold), fever, bright sunlight and, for women, menstruation.
Herpes labialis (cold sores)
When people talk about herpes, they usually mean herpes on the genitals. Herpes labialis, on the other hand, is often referred to simply as cold sores.
The first infection with HSV-1 is called a primary infection. The first infection is typically the worst and can cause painful mucosal changes in the mouth with blisters and sores. You may have fever, headache and body aches. The infection can last up to 14 days.
Subsequent outbreaks typically last shorter, perhaps 2-7 days, and are much milder. Often the only noticeable sign of the outbreak is a visible and very annoying cold sore or cold sores on the lips or around the lips.
Most people recognise the outbreak a little before the cold sore becomes visible by a tingling, burning and stinging sensation in the skin. If you've had it before, you know what's coming and should buy some cold sore remedies. And the cold sore can then appear within a few hours.
Most people are familiar with HSV-1 from cold sores on the lips, but the virus can also affect the eye area (cornea and other parts of the eye), causing red eyes, pain, discomfort and blurred vision. In addition, the herpes virus can also affect the oral cavity (gums and palate), the tongue and down the throat in the form of painful blisters and vesicles.
ALSO READ: Cold sores - good advice about treatment and preventation
3x Lip balm with Tea Tree Oil for dry lips & care of cold sores
Sale price
$6.99
Regular price
Unit price
per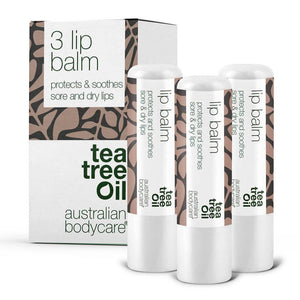 Herpes genitalis (Genital herpes)
Herpes genitalis, the genital herpes virus, is often referred to simply as herpes. It is a very common STI that cannot be cured. However, the symptoms can be treated - and you can make sure you don't pass it on to others.
Having an STI is often associated with a lot of shame, but there is no reason to be ashamed. If you have genital herpes, you are certainly not alone. Every fourth or fifth adult Dane has genital herpes, so it is a very common STI.
Genital herpes is characterised by red, swollen and sore genitals and painful blisters that burst and turn into sores. Genital herpes can also spread to the anus and buttocks, where the symptoms are similar.
The first infection with HSV-2 is called a primary infection. As with HSV-1, the first infection will typically be the worst and, in addition to the symptoms on the genitals, it can also cause headache, fever, muscle pain and sore throat and possibly also painful mucosal changes in the mouth with blisters and sores. In other words, flu-like symptoms. The infection can last up to 14 days.
Subsequent outbreaks will typically last shorter, perhaps 2-7 days, and, as with HSV-1, will be much milder. However, the blisters and sores on the genitals are still quite painful. In addition, there may also be pain when urinating.
Herpes zoster (Shingles)
Herpes zoster is a slightly different herpes disease from the other two, but it should also be mentioned here. Herpes zoster is the Latin name for shingles. The name refers to a very painful skin rash caused by the varicella-zoster virus (VZV). This is the same virus that causes chickenpox, and shingles is caused by a reactivation of the chickenpox virus, often many years after having had chickenpox. Shingles most commonly affects people over 60 years of age and people with weakened immune systems.
You cannot get shingles from being in contact with someone who has shingles or chickenpox, but shingles can be passed on and cause chickenpox. Shingles can only be caused by the reactivation of a chickenpox virus that you have in your body because you have had chickenpox in the past (perhaps as a child). The chickenpox virus travels from the skin along the nerve fibres to the nerve roots where it lies dormant.
When you get shingles, it is because the virus is activated and travels along the nerve fibres to the skin. It appears as a burning rash on limited parts of the body, face or eyelids. An outbreak may be accompanied by a slight fever and swollen lymph nodes. It is similar to chickenpox and after 2-3 weeks the scabs will usually fall off.
This may be followed by severe pain for weeks or months afterwards; this is called postherpetic neuralgia. The pain, described as a burning, stabbing or shooting pain, can be debilitating in the worst cases.
The best thing you can do to avoid shingles is to make sure you have a good immune system. If you are over 50, you can be vaccinated against shingles. The vaccine halves the risk of an outbreak. Shingles, like other forms of herpes, can be treated but not cured. Herpes zoster is also known as human herpesvirus 3 (HHV-3).
Natural intimate gel to stop irritation before, during and after sex
Sale price
$13.99
Regular price
Unit price
per
Intimate gel for the daily care of intimate problems
Regular price
From $19.99
Sale price
From $19.99
Regular price
Unit price
per
How is herpes passed on?
The herpes types HSV-1 and HSV-2 are highly contagious. They are transmitted by direct contact through mucous membranes or cracks in the skin.
A cold sore on the lips can transmit herpes to the genitals - and vice versa. And if you forget to wash your hands after touching a cold sore by the mouth and then, for example, pick your eye, you can spread the infection to your eyes. You can infect yourself and others.
Herpes cannot be transmitted through semen and blood. Nor can you get infected by sharing a towel or drinking from the same glass as someone who has herpes. There must therefore be direct contact between skin/mucous membrane and skin/mucous membrane.
Cold sores are typically transmitted through kissing or touching. Genital herpes can be transmitted through regular sexual intercourse, oral sex or anal sex. Condoms are the best guarantee against transmitting and contracting genital herpes. However, as mentioned above, a cold sore can also transmit herpes to the genitals - and the other way round.
You can be infected both when herpes is in an outbreak and when herpes is 'dormant'. However, the risk of infection is definitely greatest when there are blisters and sores.
Many people have already contracted the herpes virus as children. Some don't notice it much throughout most of their lives, while others are unfortunately plagued by repeated and frequent outbreaks throughout their lives.
Children and adults with atopic eczema (also known as childhood eczema) have poor immune defences against viruses and bacteria in their skin. They may therefore be particularly susceptible to the herpes virus.
How to prevent herpes
New outbreaks can have many different causes, including stress, a weakened immune system (for example, just from a cold), illness, bright sunlight and, in the case of women, menstruation are all known to contribute to triggering new outbreaks. Obviously, there are not many of these causes that you can do anything about, so unfortunately there is not much you can do yourself, apart from trying to avoid too much sunlight and stress.
What you can do, therefore, is to generally live and eat healthily, drink plenty of water, get enough sleep, exercise and avoid stress. This way, you will strengthen your immune system, which is the best thing you can do.
It's important to practise good hand hygiene if you have herpes - otherwise you risk giving yourself herpes elsewhere on your body or infecting others. So when you have touched a place where you have an outbreak of herpes - for example, when you have applied ointment to the area - it is very important that you remember to wash your hands afterwards. In addition, when it comes to genital herpes, it is important to remember to use a condom or avoid sex when you have a herpes outbreak.
How can you cure herpes?
As mentioned above, not all types of herpes can be cured, as there is no cure or vaccine for herpes yet, but the symptoms can be treated. The most commonly used treatment is an ointment or cream containing Aciclovir.
It is important to apply the ointment as soon as you feel an outbreak coming on. This way you can minimise the outbreak. The first few times, it may be difficult to recognise the symptoms, but after a few bouts with herpes, you'll immediately know what's going on.
If you start treatment early, you can reduce the size and duration of the outbreak. You may be lucky enough to avoid getting blisters - or at least fewer of them.
For particularly severe cases of herpes or frequently recurring outbreaks, you can try a tablet treatment. You will need a prescription after consulting your doctor. Again, this is not a cure for herpes, but it can help to minimise the number of outbreaks.