What does a burning sensation in the vagina feel like?
If you feel burning or stinging in or around your vagina, you should always take it seriously. It's your body's signal that something is wrong, whether it's an irritation or infection in the intimate area. Most women are in no doubt when they feel a burning sensation in the lower abdomen.
The area around the vagina, which refers to the vagina itself, the mons venus and the labia, feels hot, burning and very uncomfortable. There is no doubt that genital burning is a nuisance that should be treated as soon as possible.
To prevent vaginal dryness, genital itching, vaginal smell or other intimate discomfort
Sale price
$35.99
Regular price
Unit price
per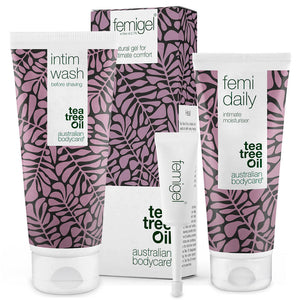 Causes of the burning sensation
There are many causes of abdominal pain. Some of them require medical attention, while others can be treated at home.
A burning sensation in the lower abdomen may be a symptom of an infection in the vagina. For example, a fungal infection that causes widespread and severe itching. Vaginal thrush is also often accompanied by increased vaginal discharge with a cottage cheese-like consistency.
Another cause can be a bacterial infection, such as gonorrhoea and chlamydia. Burning is often associated with urination.
But in fact, genital burning is often just a symptom of dryness and irritation in the intimate area - and the condition can occur for many different reasons.
Abdominal pain when pregnant
Many pregnant women experience a burning sensation in the lower abdomen during pregnancy. Some have mild burning discomfort, while others experience a strong burning pain. You may experience abdominal burning during your first pregnancy, but as a second or third time mum, you may not experience any burning discomfort.
Burning in the lower abdomen during pregnancy is a normal condition, and it may be due to the fact that the mucous membranes become extra vulnerable and delicate due to the hormonal effects of pregnancy. There is therefore no reason to fear for yourself or the baby, even though it is an uncomfortable condition. It can also make intercourse a painful experience, with some bleeding from tears in the dry mucous membranes.
If your mucous membranes do not feel dry and your vagina is not red and irritated, a burning sensation in the lower abdomen can also be caused by a fungal infection in the vagina. Pregnant women are three times more likely to get a vaginal yeast infection due to increased hormone production. If you experience burning during pregnancy, you should also contact your doctor for advice and guidance.
What is vaginal irritation?
Elbows, knees, heels and ankles are often dry and irritated. But dry, irritated skin can occur anywhere on the body - and that includes your intimate area. Dry skin is more prone to cuts and sores, which can lead to great discomfort and a stinging, burning sensation.
Intimate irritation occurs when the area in and around the vagina is dry. When a woman reaches puberty, her ovaries produce oestrogen - and continue to do so until the menopause. The production of oestrogen makes the vaginal lining moist, which is why most women experience a small amount of vaginal discharge. Vaginal discharge is both a natural way for the vagina to clean itself, while also acting as a natural lubricant during sex.
Burning sensation after sex
Sometimes the vagina does not produce enough vaginal discharge and this causes uncomfortable vaginal dryness. This causes a burning sensation in the lower abdomen, which is particularly pronounced during sexual intercourse when the skin is exposed to friction. Sexual intercourse and vaginal dryness is not a pleasant experience and you are particularly prone to vaginal tearing.
But vaginal dryness can also interfere with normal daily activities. The condition can affect all age groups, but is particularly pronounced after the menopause. However, women using contraceptive pills or other medication can also experience a dry, irritated and burning sensation in the lower abdomen.
Read on to find out how to treat lower abdominal discomfort.
Natural intimate gel to stop irritation before, during and after sex
Sale price
$13.99
Regular price
Unit price
per
Treatment for itch and burn
Irritation and dryness in the intimate area can in the vast majority of cases be improved and disappear completely if you get the right treatment. It is less likely to require harsh medicines and other treatments, but can be treated with good home care. For example, use Australian Bodycare Femigel, which has been developed to relieve dryness and burning in the genital area around the external genitalia. In a short time, the gel provides relief by restoring the natural moisture balance, so itching, irritation and dryness disappear.
Femigel is a hormone-free, water-based gel rich in the active ingredient Tea Tree Oil, known for its antiseptic and antibacterial properties. The delicate intimate area is particularly vulnerable to bacterial attacks, which can lead to an unhealthy and irritated intimate environment. But with the gel, you create a protective and moisturising film.
How often you should use Femigel depends on your symptoms. For mild burning and dryness, it is sufficient to use the gel every three days, while severe cases require daily treatment, applying the gel to your intimate area twice a day. Make sure to wash the vaginal opening lightly with an intimate soap before applying the gel. You don't have to worry about harsh products or anything else - Femigel is dermatologically and gynaecologically tested and is completely paraben-free. Therefore, the natural actives are completely safe to use even on a daily basis. Even on the most sensitive skin around the opening of the vagina.

So.. what do the clinical results tell us? ?
Femigel has been tested in a 4-week clinical study. In this study, 9 out of 10 women reported that the gel stopped itching and burning in the genital area. The results showed the following:
100 % of the women claim that Femigel removes itch
94 % of the women claim that Femigel removes dryness
94 % of the women claim that Femigel removes irritation
88 % of the women claim Femigel removes unwanted odour
So the vast majority of women in the trial experienced relief from itching, dryness and irritation in the genital area. But as a bonus, Femigel also relieves odour. Many women suffer from vaginal odour. All women have a mild vaginal odour - it's perfectly natural. However, if the odour becomes stronger and more pronounced, it causes great discomfort and irritation.
For optimal prevention and treatment of vaginal burning, it is a good idea to supplement Femigel with Femi daily and intimate wash, which are an intimate cream and intimate soap that also effectively reduce the burning sensation in the vagina. The combination of the two products gives the skin the best conditions to maintain a natural moisture level, while keeping the skin healthy and fighting off unwanted bacteria.
If you have problems with dryness, the gel is a great help. But you can also help yourself further by doing daily pelvic floor exercises or regular sexual activity. This will increase the blood circulation in your genital area, so that the mucous membranes in the vagina are better able to moisturise.

To prevent vaginal dryness, genital itching, vaginal smell or other intimate discomfort
Sale price
$35.99
Regular price
Unit price
per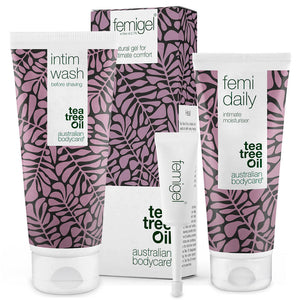 A burning abdomen causes lower sex drive
A dry and burning vagina after sex doesn't just hurt. It can also be a factor in bringing your sex life to a standstill. It's perfectly understandable that sex drive is reduced if intercourse is associated with pain instead of pleasure. After all, sex is not supposed to hurt. Yet this is the case for many women of all ages - and it often leads to frustration.
First and foremost, it is important to have a long and through foreplay. This is true for all women, especially if you already struggle with vaginal dryness. It takes time for the vaginal opening to become sufficiently moisturised, so it is crucial that you and your partner take the necessary time. If you don't, you will quickly end up with pain, tears and small haemorrhages from the vaginal opening.
If you still don't get moisturised enough, you can get help from Intim Glide. This gel provides plenty of moisture to turn pain into pleasure. Intim Glide is water-based and contains antibacterial properties from Tea Tree Oil - so you're well protected against the itching and irritation that many women experience during sex. This means it soothes and calms, so irritation and stinging are significantly reduced.
As it glides more easily, you'll also get your sex drive back.
Products from Australian Bodycare
To prevent vaginal dryness, genital itching, vaginal smell or other intimate discomfort
Sale price
$35.99
Regular price
Unit price
per