Anne Thestrup Meimbresse, Clinical Pharmacist at Apoteket pharmacy, explains that effective lice treatment is actually quite simple.

Anne Thestrup Meimbresse explains that combing is the most effective treatment for lice, but if you want to make it easier on yourself, she recommends supplementing with a mild but effective lice treatment.

The most effective method is a combination.
1. Use an efficient lice remedy
First, you need an effective lice treatment. If you go with Anti Lice, a treatment only takes 15 minutes. If you follow the instructions for use, you're sure to get rid of the creepy crawlies once and for all.

With Anti Lice, you only need one treatment. This is especially smart for families with children who want to make the treatment as easy and painless as possible.
Cure for head lice and lice eggs, works in 15 min.
Regular price
From $19.99
Sale price
From $19.99
Regular price
Unit price
per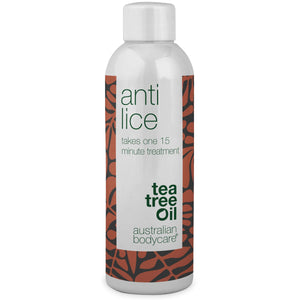 2. Rinse with shampoo and conditioner
When you're done with the treatment, rinse it out. Anti Lice should be used on dry hair only. When rinsing out the treatment, it is important that you apply shampoo to your hair before rinsing with water.

Then wash your hair thoroughly with shampoo. If you need to comb through long or thick hair, it can be an advantage to do so with conditioner in the hair.
Shampoo to prevent head lice and wash the hair after lice treatment
Regular price
From $17.99
Sale price
From $17.99
Regular price
Unit price
per
3. Use a fine tooth combe to get rid of the lice
When combing for lice, it's important to have the right tools. For effective treatment, you need a good lice comb with tight-fitting teeth that can catch lice.
Have you treated your hair with Anti Lice first? Then simply remove the dead lice and you're done after combing once.
Is your treatment just combing? Then repeat combing four times a week for two weeks.
When the hair is wet, the lice will shut down and sit still. Then you can remove them with the comb. When combing, you'll need to arm yourself with both a comb and patience, as you'll need to set aside about 30 minutes for an effective combing session.
Start at the front and systematically work your way around the head until you're back at the start.

When combing, make sure to pull the comb all the way from the roots to the tip in one smooth motion. Remember to wipe the comb with a paper towel after each stroke so you don't move the lice around.
3 products for fast control of lice
Sale price
$48.99
Regular price
Unit price
per