1. Passport
First and foremost, remember your passport if you're going on holiday abroad. Your passport is crucial for you to be able to get anywhere at all. So put your passport at the top of your to-do list. Put your passport in your hand luggage in a pocket where it's easy to access when you need to show it at the check-in desk, security and when shopping in airport stores.
Also remember to check if your passport is still valid. It's a bummer to be at the airport and realise that your passport should have been renewed. When holidaying in some countries, your passport must also be valid for at least six months after returning home. This applies to Turkey, for example.
2. Health insurance card
If you are injured or fall ill while on holiday abroad, it's important to have your insurance ready and on hand. In the EU there is a blue health insurance card.
However, you should be aware that in countries outside the EU/EEA you are not covered by the blue health insurance card. Therefore, when travelling to these countries, you need to find out for yourself how you are covered, and in most cases it is a good idea to take out private travel insurance.
3. Credit card and cash
It won't be easy to go without a credit card or currency for the country you're travelling to. It's a good idea to exchange money from home, as there may be fees and other expensive costs associated with exchanging it at your destination or at the airport.
You can pay by credit card in most places, but if you're travelling to a local market or similar, it's a good idea to bring cash - that way you can haggle over the price.
4. Intimate hygiene
If you're like most people travelling somewhere warmer, you're bound to break a sweat as you bask in the sun's rays or explore the city and nature of your traveller's paradise. Either way, good intimate hygiene will be necessary, as sweat and insufficient care in the area can quickly lead to odour, itching and irritation.
That's why a gentle but effective intimate soap that effectively cleans the area without disturbing the natural bacterial balance in the delicate area is indispensable. The hot weather and sudden climate changes can also be hard on the intimate environment, which is why you should ally yourself with Femigel and Femi Daily, which counteract intimate irritation and dryness while maintaining a natural moisture balance.
To prevent vaginal dryness, genital itching, vaginal smell or other intimate discomfort
Sale price
$35.99
Regular price
Unit price
per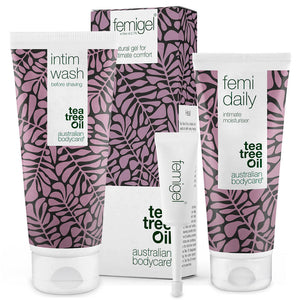 5.Shaving gear
Shaving gear is a must when travelling - for both men and women. Travelling is a great opportunity to nurture your relationship and show your partner care. This means that travelling and sex often go hand in hand.
So remember to trim or shave your intimate parts if you want to look sharp and neat. To do this, you need the right shaving equipment to avoid red razor bumps. You didn't mean for this to happen when you're supposed to be the top dog in front of your partner, right?
Hair grows back quickly, so you may need to swing the razor several times on holiday if you like the clean-shaven look. Shaving is hard on the skin, so you need to take optimal care of your skin before, during and after intimate shaving to avoid bacterial infections and those annoying red razor bumps.
With the right intimate shaving aids, you'll also be ready to hit the beach without unsightly red bumps on your bikini line.
3 products for the prevention of irritation, razor bumps and ingrown hair after intimate shaving
Sale price
$41.99
Regular price
Unit price
per
6. First aid kit
Travelling should be stress-free and worry-free. But when you arrive in another country, your body can quickly react to different lactic acid bacteria from food and water, for example. In many places, it's recommended that you don't drink tap water, but if you do happen to take a sip in the shower, there are various preparations that help your stomach if you get an upset stomach.
Therefore, it's a good idea to pack a small first aid kit in your travelling suitcase. It doesn't have to be an entire emergency room, but rather the essentials such as headache pills, stomach pills and an antiseptic and anti-itch stick that effectively counteracts the nuisance of mosquito bites, which are hard to avoid in a tropical climate.
Read more: How to treat mosquito bites
Practical roll on stick against bacteria and irritation from insect bites
Regular price $10.99
Sale price $10.99 Regular price
Unit price / per
7. Sun cream and aftersun
Sunscreen and aftersun are both indispensable when you're on holiday in southern climates. With the right protection for your skin, you can avoid getting burnt and sleepless nights with red, sore shoulders and the prospect of several days in the shade.
Abroad, the UV index is somewhat higher than in Denmark, so you need to protect yourself with an even higher sun protection factor. A minimum of factor 30 is recommended abroad, and if you have very sensitive skin, you should start your holiday with factor 50 until your skin has become more accustomed to the sun. Make sure you wear plenty of sun cream and apply it regularly throughout the day - it's not enough to just apply it first thing in the morning. Also apply sun cream if you sweat a lot and when you've been in the water. Even if the sun cream is water-repellent.
On holidays with lots of sun, beach and relaxation, an aftersun is also an indispensable part of your pack. Not only in case you get a sunburn, but also because the sun and sea water dry out the skin, which requires a lot of moisture. An aftersun soothes, cools and moisturises the skin - and it also helps your tan last longer.
Products to care for sunburn & other skin problems
Sale price
$77.99
Regular price
Unit price
per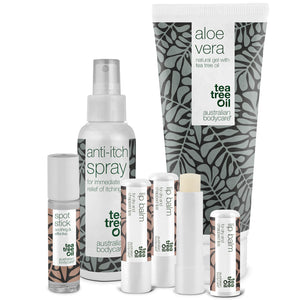 8. Cellphone/camera
A picture is worth a thousand words. That's why a camera is an indispensable part of your suitcase if you want to capture the good memories of your holiday.
But to save space in your suitcase, you can skip the digital camera and use your smartphone to take pictures. The camera in many smartphones is now so good that it takes postcard-worthy photos. And you've probably already packed your phone as the first thing in your suitcase.
9. Swimwear and light clothing
For many people, one of the most essential items when travelling is their swimwear, so it should be on your packing list. Walking up and down a chalky white sandy beach wearing nothing but a pair of swimming trunks or a bikini is synonymous with freedom. In fact, swimwear is almost more important than actual clothes - at least if you're going on a pure relaxation holiday by the pool or beach. Pack more than one set of swimwear so you have something to change into. It's also a good idea to pack a set in your hand luggage in case your checked luggage gets lost.
Add light clothing to your packing list so you can pack it in your suitcase and remember to check the weather forecast at home before you leave. This will also give you an indication of whether you'll need a warm cardigan or something similar in the evening.
10. Backpack and sandals
If you're going on a backpacking trip, your backpack and good footwear are of course an essential part of your travelling gear. But even if you're going on holiday with children or a partner, it's a good idea to bring a backpack and good sandals.
You've probably booked a holiday for warmth, experiences and a different culture. That's why you should bring a good backpack and footwear that you can use when hiking in the mountains, exploring city life or otherwise exploring another culture. Make sure your backpack has room for water bottles and a few extra clothes if you're moving in and out of areas where you need to be able to quickly put on and take off an extra layer of clothing. To save space, you can use the same backpack as hand luggage on the plane and as a backpack when you go on trips during your journey.
If you'll be walking long distances, it's a good idea to invest in a pair of shoes that provide good support and shock absorption - especially if you plan to walk on hard surfaces.
Tips for packing your suitcase
Packing your suitcase according to a packing list with the essentials for travelling well requires a little thought. It's a good idea to pack heavy items at the bottom of your suitcase and lighter items at the top. Pack wisely and fill in the gaps where there is a void. This can be done by rolling your socks into balls and putting them in your shoes - that way they won't lose their shape. Also, make sure to put the things you need to access quickly at the top.
Pack your suitcase in categories so it's easy for you to keep track of the things inside. And finally, be selective when packing clothes, toiletries and the like. Most creams, deodorants and toothpastes come in travel sizes so they take up very little space in your suitcase.
Products to care for sunburn & other skin problems
Sale price
$77.99
Regular price
Unit price
per