1. Tea Tree Oil: Managing Pimples and Acne prone skin
The strong anti-microbial compounds found in Tea Tree Oil make it an excellent choice for managing acne prone skin. Using just a small amount of the oil can help to penetrate skin and unblock the sebaceous glands from a build-up of sebum and dead skin cells.
Tea Tree Oil can also dry out blackheads, pimples and other blemishes therefore reducing their appearance over time. It is important to point out however that although Tea Tree Oil can improve skin health, using too much Tea Tree Oil can dry out the skin which can trigger the body to overproduce oils and further aggravate skin conditions.
Pro-tip: We recommend using well tested products which contain a pre-mixed skin friendly dose of Tea Tree Oil to help battle pimples and acne in a kind to skin way.
You can treat spots on the forehead, cheeks or nose by mixing a few drops of pure Tea Tree Oil into a teaspoon of witch hazel and applying with some cotton. Try to leave the mixture on for several hours or even overnight for more effective results.
Treat spots on the back, chest and body with a Tea Tree Oil bath. You can do this by adding a few drops of the oil into your regular bath water and soaking in the water for at least ten minutes. This method counteracts bacteria leading to visibly fresh, glowing and healthy-looking skin.
Read more about: Tea Tree Oil for acne
4 of the best products for blackheads, to get rid of spots on face and the daily care of acne
Regular price $55.99
Sale price $55.99 Regular price
Unit price / per
2. Tea Tree Oil: To Lighten The Appearance of Scars
You can incorporate Tea Tree Oil into your face care and skin care routine to reduce the appearance of skin blemishes or you can buy pre-made safety tested Tea Tree Oil skincare.
Tea Tree Oil contains antioxidants which can promote the regeneration of skin cells; it is also a much cheaper and natural alternative to pricy cosmetic creams.
By using Tea Tree Oil mixed with carrier oil or a Tea Tree Oil serum daily and massaging this mixture onto the scar until fully absorbed, you will begin to see an improvement in skin appearance.
3. Tea Tree Oil: To Treat Cuts And Infections
If you have cut yourself or have a minor infection in an exposed wound, you can use Tea Tree Oil in combination with lavender essential oil as a homemade ointment. Be sure to clean the wound thoroughly with water and then dilute two drops of Tea Tree Oil and lavender oil in some jojoba oil, apply on the cut and cover with a dressing to prevent infections.
100% natural and concentrated Tea Tree Oil from Australia
Sale price
From $9.99
Regular price
Unit price
per
4. Tea Tree Oil: For Relief Of Razor Burn
Razor burns can be unsightly, uncomfortable and even painful if left untreated. You can apply a small amount of Tea Tree Oil to the affected area as a natural astringent to alleviate the irritation caused from shaving.
After shaving, add some drops of Tea Tree Oil diluted in witch hazel on a cotton ball and apply to the parts of your skin which are prone to razor burn.
You should notice a soothing and cooling sensation which can provide relief.
3 products for the prevention of irritation, razor bumps and ingrown hair after intimate shaving
Sale price
$41.99
Regular price
Unit price
per
5. Tea Tree Oil: To Cleanse and Improve Hair and Scalp conditions
The natural therapeutic properties and cleansing abilities of Tea Tree Oil make this an extremely useful addition to your usual shampoo.
By adding a couple of drops of Tea Tree Oil to your shampoo while in the shower, you can prevent the build-up of chemicals, oils and dead skin on the scalp and cleanse your hair thoroughly as you wash it.
To improve the condition of the hair, using coconut oil with a couple of drops of Tea Tree Oil, can help to moisturise and give a healthy shine to your hair.
Do this by massaging the mixture onto the scalp and throughout the length of your hair twice a week and leave it in for at least thirty minutes before washing your hair.
Read more about: spots on scalp | Dry scalp | What causes itchy scalp?
6. Tea Tree Oil: For Healthier Hair
Tea Tree Oil can also stimulate the blood flow to the scalp and hair follicles which can promote healthier hair growth.
Regular application of Tea Tree Oil or use of a Tea Tree Oil shampoo/conditioner or mask can improve the overall condition of the scalp and hair thanks to the antibacterial and antiseptic properties of the oil.
Regular application of Tea Tree Oil will protect the scalp from any future infections, resulting in better nourished roots and better hair condition.
Read more about: Tea tree oil for hair
7. Tea Tree Oil: To Treat Dandruff
Dandruff is caused by a naturally occurring microbe on the scalp. A by-product of this microbe is created when it feeds on the natural oils on the scalp, this can cause sensitivity and an inflammatory response of itchiness and flaky skin.
Tea Tree Oil applied to the scalp either in a shampoo or mixed with carrier oils can help to treat scalp dryness and itchiness.
Read more about: How to get rid of dandruff? | What causes dandruff?
Everything you need to care for a dry, irritated scalp, all in one package
Sale price
$41.99
Regular price
Unit price
per
8. Tea Tree Oil: As a Hand Sanitizer
You can make your own natural hand sanitizer at home mixing Aloe Vera, Tea Tree Oil and Lavender into a spritz bottle. The Aloe Vera is useful for nourishing and hydrating the skin and the oils act as the antimicrobial agents in the sanitizer.
9. Tea Tree Oil: For Helping Manage Symptoms of Nail Fungus
Nail fungus appears as yellowing nails, with an increased thickness and change to shape. Leaving the condition untreated can lead to considerable amounts of pain and discomfort and the loss of the nail.
You can use Tea Tree Oil to help keep nails clean and soothed by applying a few drops of pre-diluted oil onto the affected area.
This will also help to add some moisture to the nail and surrounding skin.
Nail care oil for cracked, rough discoloured nails
Sale price
$21.99
Regular price
Unit price
per
10. Tea Tree Oil: For Management of Head Lice
Although some earlier studies did suggest that Tea Tree Oil may be useful in the treatment of head lice, combing remains the most effective treatment of head lice to date.
It is recommended that a conditioner is used with a fine comb to remove head lice. Previous research suggests that Tea Tree Oil can kill head lice in the nymph and adult stages of life as well as in reducing the number of lice eggs which hatch.
You can also use Tea Tree Oil in your shampoo or carrier oil if you have head lice to reduce any irritation and itchiness.
Read more about: Tea Tree Oil for Lice
Cure for head lice and lice eggs, works in 15 min.
Regular price From $19.99
Sale price From $19.99 Regular price
Unit price / per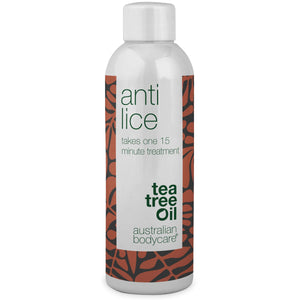 11. Tea Tree Oil: To Treat Insect Bites and Stings
Tea Tree Oil is highly effective in the treatment of mosquito and insect bites as it helps to reduce skin swelling.
By first diluting then applying the Tea Tree Oil in carrier oil to the affected area, you can minimize the itchiness. Aim to keep the bite or sting area covered with a dressing so the oil does not evaporate or rub off.
You can repeat the application up to twice a day on the wound until it is healed.
for the daily care of acne and effective against blemished skin, pimples and blackheads.
Regular price
From $10.99
Sale price
From $10.99
Regular price
Unit price
per
Always remember that before using Tea Tree Oil on your skin you should perform a skin patch test to ensure that you do not have any adverse reactions to the oil. If you notice any redness, irritation or a rash developing then wash your skin thoroughly and avoid using Tea Tree Oil again.
Tea Tree Oil should never be ingested nor used around the mouth as it can be poisonous if consumed even in small amounts.
What are the Benefits of Tea Tree Oil?
Tea Tree Oil is naturally extracted from the Australian native plant Melaleuca alternifolia. The extraction process is simple and requires steam distillation from the narrow leaves of the plant.
Native Australians had been familiar with the beneficial effects of Tea Tree Oil for centuries and introduced the British explorer Captain Cook, to their 'healing tree' when he arrived in Australia in the 18th century.
Leaves from a 'Melaleuca alternifolia' plant had been falling into water for over one hundred years which had turned the waters into antiseptic baths. Captain Cook's crew were allowed to bathe in the water and noticed that their skin wounds, cuts and similar skin irritations began to heal.
During the Second World War, the Australian army managed to obtain possession of any income gained from Tea Tree Oil, as it was used to treat injured soldiers.
Production of Tea Tree Oil became an essential war time industry and all soldiers were given a small bottle of Tea Tree Oil to carry in their backpacks.
They were advised to use the oil to treat their wounds, cuts and any insect bites. Soldiers found that the antiseptic properties of the oil eased their discomfort, healing time increased and the risk of any infections decreased.
Today scientific research suggests that Tea Tree Oil offers antiseptic and antibacterial properties which are all extremely beneficial for treating and managing a wide variety of skin conditions, as well as using it to maintain skin health.
By adding Tea Tree Oil into your regular skin care routine, or using it to manage conditions such as acne prone skin or dandruff, you will notice an improvement in your skin within a few weeks if you maintain regular usage.
Tea Tree Oil is thought of as a potent healer and many prefer it as a natural alternative to some medications and cosmetic skin care products which may contain harsh chemicals.
Nowadays, many face washes, shampoos and other cosmetic products contain Tea Tree Oil as their active ingredient.
Read more about: Tea Tree Oil – What is tea tree oil used for?
Relevant products
3 products for the prevention of irritation, razor bumps and ingrown hair after intimate shaving
Sale price
$41.99
Regular price
Unit price
per
Everything you need to care for a dry, irritated scalp, all in one package
Sale price
$41.99
Regular price
Unit price
per