pack of 100% concentrated and undiluted Tea Tree Oil from Australia
3 x XL Tea Tree Oil of high pharmaceutical quality | Tea Tree Oil has been used to treat skin infections in Australian folk medicine for more than 1000 years | Anti-bacterial | Effective against pimples, blemishes and skin problems | Anti-itch and healing effect.

100% concentrated Tea Tree Oil in a 30 ml bottle. Dilute before use.

Read more
Sale price
$41.99
Regular price
Unit price
per
✓ Fast Delivery

✓ 100% Vegan

✓ Dermatologically tested

✓ 100% Money back guarantee
Seen in
View full details
Tired of skin problems, acne and blemishes? Or maybe you're covered in annoyig insect bites? Or do you simply want to benefit from the oil's antibacterial effect?

The 100% pure Tea Tree Oil effectively counteracts bacteria without destroying the skin's natural bacterial flora. The oil can be used for various skin problems, which is why we add Tea Tree Oil to our problem-solving skincare products.

With the 100% natural and concentrated Tea Tree Oil, you can enjoy the benefits of the oil yourself by diluting it and applying it to your skin, hair and nails.

How do I use Tea Tree Oil?
The 100% pure and natural Tea Tree Oil must be diluted. It is therefore important that you read the package leaflet carefully before use. In the package leaflet you will find instructions on how to dilute the oil and how to store it in the best possible way. The oil should only be used diluted and externally on hair, skin and nails and should under no circumstances be ingested.

You can use the oil in several ways - we suggest the following:

Add a few drops of the pure oil to your footbath or bath.
It adds a freshness to the water and helps to deeply cleanse the skin.

Dilute the product with a good food-grade vegetable oil
We suggest mixing the oil in a good almond oil. You can find mixing instructions in the package leaflet.

Using the oil to relieve skin irritations
You can gently apply the oil directly to a pimple or insect bite to relieve itching and irritation and counteract bacteria on the skin.

It is important to dilute the product if it is to be used on a larger area of skin. Read the mixing ratio and more information about the product in the electronic package leaflet.

How does Tea Tree Oil work?
Tea Tree Oil has been used in Australia for more than 1000 years, and with good reason. Tea Tree Oil has been shown to be effective against bacteria and therefore helps to prevent skin problems and keep the skin clean and healthy.

Tea Tree Oil consists of 150 ingredients that all contribute to the skin-friendly effect. The pure oil can be used for impurities and insect bites, as it has a cleansing, soothing and anti-itching effect on the skin.

The story behind Tea Tree Oil
Tea Tree Oil from Australia is of high pharmaceutical quality and is extracted by steam distillation from the leaves and branches of the Melaleuca Alternifolia shrub, which grows in humid areas in south-eastern Australia.

The Australian Aborigines discovered the oil's beneficial effects against infections and skin problems when bathing in lakes surrounded by the shrubs. The roots and leaves of the plants that fell into the water released the antibacterial Tea Tree oil, transforming the lake into an antiseptic bath. Indigenous Australians bathed in the lakes because it helped with insect bites, cuts and other skin problems and kept their skin healthy - even in the harsh environment.

The oil has been used to treat skin infections for more than 1,000 years, which is why we add it to all Australian body care products. Read more about Tea Tree Oil here.

100% satisfaction guarantee
If you find that our products do not live up to your expectations or provide the desired results, you can of course take advantage of our satisfaction guarantee.

If you have purchased the products directly from our online store, you can get your money back within 100 days if you are not satisfied with the products.
Read more about our satisfaction guarantee here.
David

Having been a long-term user of this product, we have no problem repurchasing and using it again. Fast delivery and at a competitive cost.

Susan

Australian Bodycare is my favorite! Now I don't use anything else. My skin is perfect for the first time in years! Thank you, Australian Bodycare!

Sarah

I've been using this company for years. Their products are of very high quality. The ordering process is straightforward, and the delivery is fast. I highly recommend them.

Mary

I love the products. I really value the small gifts. The customer service couldn't be better. Thanks to you all.

Elizabeth

Good products that live up to their promises with an incredibly good effect. My skin has never been better!

John

Excellent products. I've always liked tea tree and now there's such a wide range of products for everyone.

Michael

Brilliant products and fast delivery. I'm very impressed 🥳.

Emma

My skin feels great. I will definitely make this a permanent part of my skincare routine.

Karen

Very easy to order. Very efficient service. Always informed about the delivery. The service was excellent.

Helen

I love these products. I have very sensitive and reactive skin and have no issues with these products. I'm very happy.

Daniel

The products are absolutely excellent, they work perfectly, used once and everything is clear! Plus, they're better than chemical solutions.

Lisa

Excellent products, they really work well. The price is a bit high but so is the quality.
Frequently asked Questions
Melaleuca Alternifolia Leaf Oil (100%), Limonene, Linalool, Geraniol.
The story of healing tea trees dates back thousands of years and it originates from the Aboriginal people of Australia. Their legends describe lakes surrounded by tea trees. Falling leaves and twigs from the tea trees leached their essential oils into the water and turned the lakes into antiseptic baths. The lolacl Aborigines used these natural, healing spas to treat a number of conditions, such as skin infection, burns, cuts and insect bites.

The healing benefits of tea trees were not officially registred until 1923. However, the local Aboriginal tribe, Bundjalung, had long understood the protective and healing powers of tea trees and used their crushed leaves to treat various wounds and skin infections. They named the land with tea trees "Healing Ground".

The products from Australian Bodycare contain natural, antiseptic Tea Tree Oil (Melaleuca Alternifolia). Tea Tree Oil has been known and used by Australian Aborigines for centuries because of its powerful antiseptic effects. Tea Tree Oil has been added to all Australian Bodycare Tea Tree Oil products in different concentrations, depending on which skin problem the products is developed to combat and where on the body it is to be used. Our product series is tailored for the entire family: It prevents and treats the most common skin problems—all while staying gentle on the skin.
Shipping and Satisfaction Guarantee

United Kingdom

Expedited & Standard shipping (1 - 2 days) - GBP 9.99. Free shipping on purchases over GBP 29.

Ireland

Standard shipping (2 - 3 days) - GBP 9.99. Free shipping on purchases over GBP 39.

We attach great importance to customer satisfaction and guarantee you the highest quality. Therefore, if within 100 days of receiving your products you are not satisfied, you can make use of the satisfaction guarantee.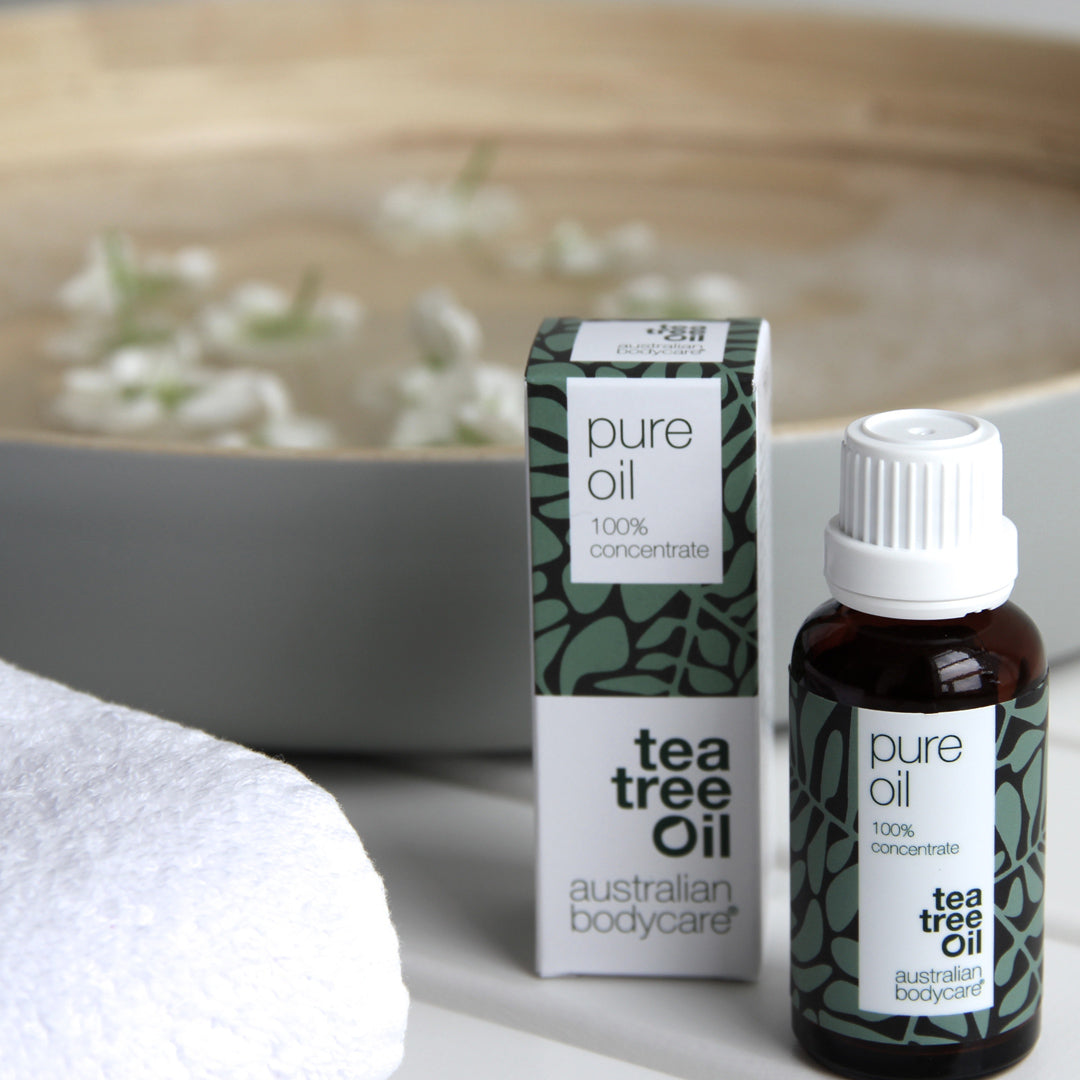 Why you should take care of your skin with Tea Tree Oil from Australian Bodycare
100% Natural

Discover the secret to radiant skin, Tea Tree Oil from Australia's rich flora, a treasure passed down by aboriginals. Sourced from the Melaleuca Alternifolia tree, our products boast the purest, pharmaceutical-grade Tea Tree Oil.

Heal

Harness the might of Tea Tree Oil for immaculate skin and hair. Celebrated for its unparalleled antibacterial and antifungal prowess, it balances the skin's bacterial flora. Every Australian Bodycare product is infused with the right concentration of Pure Tea Tree Oil for optimum results.

Maintain

Embrace daily care with Tea Tree Oil to combat skin issues and promote healthy skin. Engineered to curb unwanted bacterial and fungal growth, our dermatologically-tested formulations prioritize potent results without compromising skin safety.
We Care About Nature
We have partnered with Cool Earth in the conservation of 241,000 hectares of rainforest, protected by 31,000 people.
Read More Here